Onesie Jack Store is leverancier van een reeks van Originele / licentie producten o.a. Badjassen, Onesie, Jumpsuits, loungers, Badslippers, Neon verlichting en overige Merchandise voor Star Wars, Doctor Who, Rocky, Only Fools & Horses, Breaking Bad, Batman, Assassin's Creed, Shaun the Sheep, Harry Potter, Suicide Squad, Wonder Woman, Super Heroes, Ghostbusters, Superman, Guardians of the Galaxy, Iron man, Marvel, Warner bros / DC Comics.
Herinnert u zich deze nog...?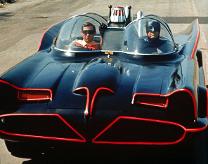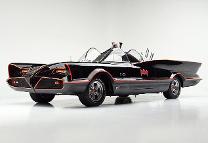 Quote
Voor mij is een jongensdroom uitgekomen. Sinds ik als klein jongetje naar de serie keek, droomde ik al van een eigen Batmobiel
Aldus Rick Champagne, de koper van de originele eerste Batmobiel. De legendarische filmauto krijgt een ereplaats in de woonkamer van de rijke ondernemer uit Phoenix. Hij koopt de auto van George Barris, die de auto in 1965 ontwierp voor de eerste televisieserie van Batman.
De eerste Batmobiel verscheen in 1941 in de stripboeken over Batman en zijn hulpje Robin. In de verhalen gebruikte Batman in eerste instantie nog een normale auto, die voorzien was van een motorkapornament in de vorm van een vleermuis. Pas na vier stripalbums verscheen de eerste speciaal voor Batman ontworpen automobiel, die net als alle andere gadgets van Batman de toevoeging Bat- in de naam kreeg. In de volgende uitgaven wisselde Batman constant van auto. De eerste tastbare Batmobiel werd in 1965 gebouwd voor de televisieserie over de gemaskerde superheld.